The school itself has a boys' and a girls' side for dorms. The students will most likely be dorming with another student, so please refer to this page for dorming assignments.
On the higher levels of the institute the older X-men and teachers have their own quarters.
Dorm Assignments will be posted here:
Girls:
Jubilee/Cynthia  ----------    H1
Armour/Dust ---------  H2
Magik/Sasha -------   H3
M/Nicole ------- J1
Arisa/Luna    ------------------ J2
Boys:
Julian/Gar ------------  E1
Gavril/Turi ------------  E2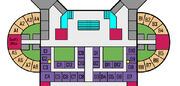 Subcategories
This category has only the following subcategory.
Pages in category "Room Layout"
This category contains only the following page.
Ad blocker interference detected!
Wikia is a free-to-use site that makes money from advertising. We have a modified experience for viewers using ad blockers

Wikia is not accessible if you've made further modifications. Remove the custom ad blocker rule(s) and the page will load as expected.